Our vacation to Maui was wonderful. The Westin Ka'anapalli Ocean Resort Villas are amazing. The girls had a blast in the children's pool with the ship that had slides, water spraying from the top and lots of kids to play with, and the larger pool on the South side with the long slide and jacuzzi. The condos were modern and comfortable. We had the 2 bedroom villa. We stayed in the 1 bedroom side, the Peppers stayed in the studio side. We each had our own washer/dryer (Seriously!) kitchen, jet tub, huge shower and king beds with couch sofa beds. We each had a balcony too. Granted the 1 bedroom had a larger size of everything mentioned, the studio was in no way less of a room.
Our weather was warm but very windy. We had light showers a couple nights but we were already inside so it didn't matter. We ventured to the beach as a group once. I also took Shawna alone. The sand was so soft. The water clear and warm. The problem was just that the wind would toss up sand while painfully slapping your body so we didn't spend much time at the beach. The drama in washing the sand off the kids in the cold outside showers provided was also something none of us wanted to do again. They had it EVERYWHERE. Even inside the linings of their swimsuits. (shake head like that's crazy).
Another exciting thing that happened is we met and hung out with a recently retired major league baseball player named Matt Franco. He'd played on the Cubs, Indians and Mets. He was there with his cute 3.5 yr old son Nate. His wife (stunt woman/actress Bevin Kaye) wasn't there due to a work conflict. I did meet his sister and her boyfriend though. We hung out with them a lot.
Day 1: Sunday - The long flight over
That was a long day. We got picked up by the shuttle bus. SFO airport was crazy busy. We had the 3 kids, tons of luggage and a connecting flight. All went according to plan but kids were making us all nuts. They were as anxious as us to get there but we had 2 planes and a rental car to deal with. By the time we arrived we were all hungry. Thank goodness I packed an entire suitcase with dry goods. We had mac & cheese, crackers, chips and other munchie food to take us to the next day.


Day 2: Monday - Shopping Day
Todd, Todd and Susan took the minivan to Costco (an hour away from the resort) to Safeway and Kmart (the girls HAD to have pool tubes). The girls and I hit the kiddie pool with the ship. Soon after I planted myself down a cute guy and his blond son arrived. Son had a Superman pool suit. Dad lathered him up in sunscreen and off son went. As the morning went on we started talking.
Over the course of the hours he'd run and get us drinks while I watched the kids. I'd run the restroom alone or with one of the girls and he'd watch the rest of the girls. He'd go smoke off site and I'd watch the girls. He'd get us more drinks and I'd watch the kids. There was a lot of drinking going on. :0)
At some point he mentioned the slide in the other pool on the South side of the resort. Paula was really up for that. Shawna too but not Tyler. We all ventured over there together. Paula went down, then Shawna but the water was 4 ft deep so Shawna had trouble staying up and got scared. I dove in to retrieve her. That was the end of the slide for Shawna.
We hung out and drank more. Finally the two Todd's and Susan came and hung out. Matt had said he was planning on going to the beach the next day. We hugged and I thanked him for all his help that day. I went to the room, showered and fell asleep with a really great buzz.


Day 3: Tuesday - Lahaina
On Tuesday morning everyone was tired but Shawna was very tired. Even grumpy. The kids feet had sores from rubbing them against the pool bottom of the kiddie pool (1.5 feet deep). Everyone wanted to go to Lahaina but I said I'd stay back w/Shawna and we'd hit the kiddie pool again. Now that it was just Shawna and I and the pool had almost no kids, she wanted me to swim with her. It was 1.5 ft deep. Shawna I can't swim in that. I did play w/her a bit. Later Matt and Nate showed up. Nate had been asking if he'd see Paula and Shawna today. They decided not to do the beach. Matt's sister Monica and her boyfriend had also arrived. They sat over on the sunny side, I hung out over in the shady section. He and I didn't chat much other then to say how buzzed we were the day before, how we had a fun time and we all went to sleep early. haha

Shawna and I went to the beach to make a castle. She was afraid of the waves since she got "taken out" in New Brighten Beach in Feb. The wind picked up so we headed back to the kiddie pool. Still not that many kids so Shawna and I headed back to the room for lunch and a rest. I ended up taking a nap when I knew Todd was moments away. He came in, got the kids swim gear and they all headed to the pool. I napped then joined them. The girls each had shell necklaces and bracelets and flowered hair ties from Lahaina. Tyler and Paula also received new flip flops.

I napped while the rest of them went back to the pool. At some point I joined them. This day the girls had to wear their swim shirts from now on because they got too red the day before. We were using spf 50 on them btw.


Day 3: Wednesday - Kids Club
This was the day the kids got to go to the Westin Kids Club from 9-12:30 (Paid for by the Westin so we could meet w/the sales folks), while we separately listened to the spiels by the sales folks on how we could upgrade from every other year to every year (no thank you) or to the Peppers how they could just become owners (not on their life for these prices). Our girls were the only 3 in there so they had lots of activities. They each received their own backpack filled with a water bottle, bracelet, passport, visor to decorate and apron to decorate. They also made the Moms cute things for Mothers Day. I received a personally colored pillow case from both my girls, their hand prints in sand on colored tongue depressor type board, and another sand picture. They got to pick out their own lunch (pizza and chicken fingers) and feed the qoi fish in the pond. They also watched a movie and played games. They LOVED the kids club. I'll definitely take advantage of that FREE part each time we go. Otherwise it would have cost me $50 per child. We gathered them up at 12:30pm and went to the pool. Susan got VERY sunburned on the backside. She didn't wear any sunscreen and was bright red.
That night Todd and I got into a fight. We'd been sparring with each other for a few days and it all had to do with things at home. We each had alcohol in our system so it got heated. He went down to the bar with Pepper where he drank too much and threw up. Nice.
Day 4: Thursday - Luau
We hit the beach in the AM where the Todd's snorkeled. Susan hid in the shade all day. Poor thing. She was really sore. We went to the Luau that night at the Hyatt. The girls really enjoyed it. They got to go up on stage and learn the hula. The food was really good too. That night Todd and I had it out. We each vented and cleared things up. We also made up really good that night too if you KWIM.
Day 5: Friday - Whaler Village
That morning we took the shuttle to Whaler Village. We did some window shopping and had lunch at McDonalds. Afterwards we headed to the pool where we saw Matt and his gang. We hung out with them. Matt bought more drinks which I then proceeded to spill. Monica was showing Nate how to do armpit farts. Just like every great aunt should! I'm like Hey! I can do armpit farts! My right side wasn't working I switched the left where I did get a good one out, but then my elbow bumped my drink which I'd placed on the recliner arm. DOH! Matt shared his drink with me. Todd was so great about letting me hang with Matt. Although he could have gotten jealous he wasn't.
That night Todd Pepper and Susan got in a fight. Todd jokingly called her a Hussy which she didn't appreciate. Their fight lasted the entire next day. It was in the air I swear.

Day 6: Saturday - Last Full Day
We spent the entire day at the pool. Well, not Mr. Pepper since he was Mr. Grumpy face. Susan was bumming out too. We spent most of the day at the big pool. I covered all 4 kids for awhile while Todd went to the condo to gather up lunch, Susan and Tyler were at the kiddie pool and Matt was lord knows where. Finally Matt came back, then left again. OMG dude! He brought me a drink so that was cool. LOL

We packed up that night while my Todd and Susan did dinner. Susan cried a lot too. Mr. Grumpy face stayed on his balcony or left the condo completely. Finally we sent him outside with the kids cuz they were stir crazy and we needed to pack and get dinner done. They had a fun adventure apparently.
Day 7: Sunday - Going home
Todd and Susan made peace. Thank god since we had to get up by 6am to shower and leave by 7am, return the rental van, shuttle to the airport and get on the plane to take us to Honolulu where we'd wait almost 3 hours for our next flight to SFO. Once arriving to SFO our shuttle bus did not show up. We didn't get home until 11:30pm that night. Everyone was tired, starving and happy to be home.
Here are a few pics:
The Plane Ride Over



Me and Susan - This was what I looked like (lounging) everyday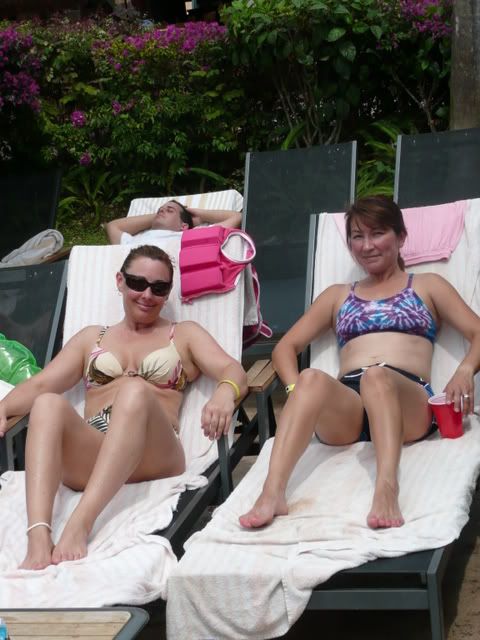 Paula



Shawna



Paula loved this slide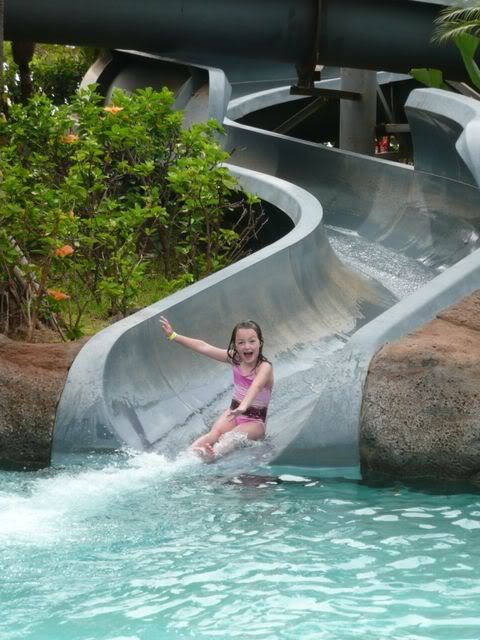 beach



We had a hard time keeping them out of the hottub. There was a 16 yr old age limit.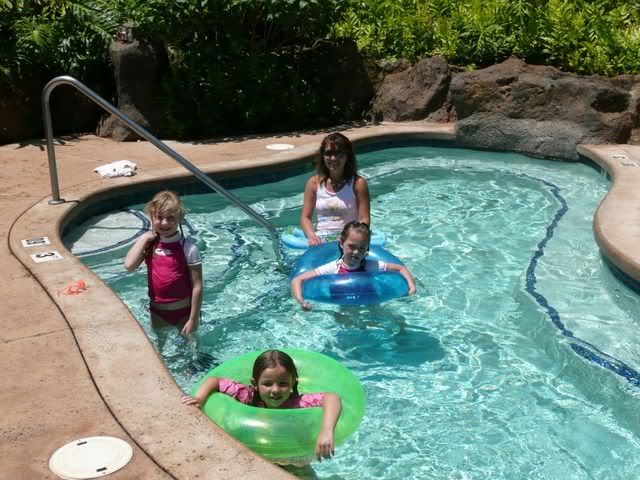 Bathtub jets fun



Awe....



Luau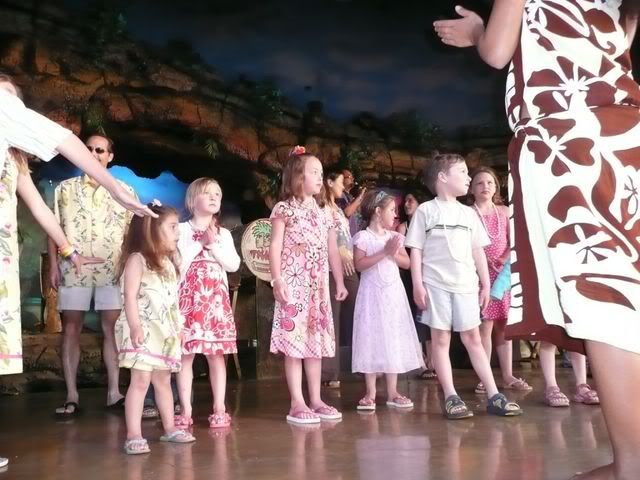 So these are all the Matt pictures:

His sister Monica, boyfriend, Me and Matt



I'm a dork and had a hard time doing the hand sign



Matt and his son Nate (don't they even look like they a bit like Kurt Russell?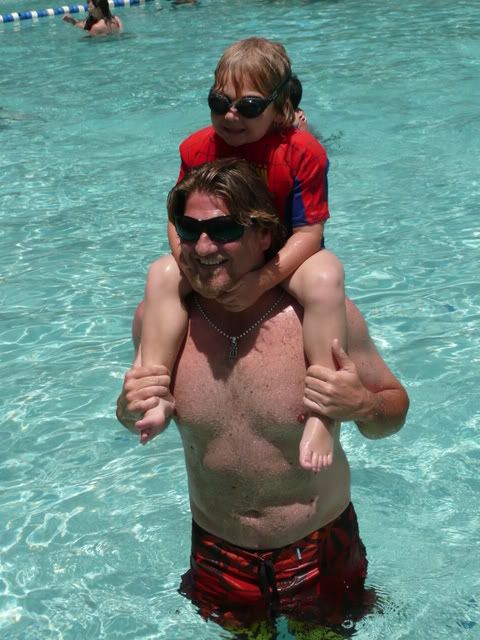 This is from internet