My Christmas cards finally arrived yesterday. I ordered 40 cards but only had 25 Holiday Letters so not everyone gets the story of my life that you can read below.
I put the final addresses that I have only at work on the last couple this morning and put them in the mailbox here at work. Hopefully they get delvered on Monday.
Next year I'll order 50. It's just that I normally have extras that sit in the box for years, so this year I went with less. Turns out I needed more. We met several families camping this year plus made friends with some fun school parents.
Shawna will turn 5 on Jan 26th. She's really excited and wants a Cinderella party at Pump It Up. I need to remember to book that.
Here is her 1 year portrait. That dress was made by my grandmother for me when I was her age. I love that Shawna got to wear it.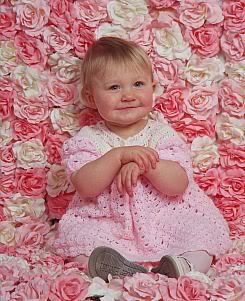 This was her and I at her 1st birhthday party in our old house. So cute! Dang how she's grown.
She's about 1.5 yrs old here. Holding her milk bottle and riding her Harley.
I tell her and Paula all the time their not allowed to grow but they doesn't listen. Something else of Shawna's that I totally adore and is all mine is her belly button. She has the biggest outie ever. Her belly button would not fall off as an infant. It took weeks for it to drop off. Even when it did it came off in pieces. Some mornings when I'm dressing her for school she says I can kiss her belly buttom. I LOVE when she says that. She loves that I love her belly button so much. I give it rasberries and make funny noises on it. Well last night she was mad at me for ripping off the final part of her bandaid that had been on for days....maybe weeks! Todd had been working with her using vegetable oil to get it off but it was still sticking. She came over to me and my mom at the table to talk to us and I saw it dangling so I ripped it off. (mean mom). Oh was she mad! She was crying and saying she would never like me again. We went into the living room eventually and she was still crying. She told she would never let me see her belly button again. (GASP) I was like NO Way honey. I took her and tickled her and gave her button a squeeze. She was still mad but was softening up. haha Eventually she sat on my lap and we were friends again. I really love that belly button.