This weekend my family and I went camping in Pescadero to a place called Costanoa KOA. It's sandwiched between Half Moon Bay and Santa Cruz. Pescadero is famous for Pigeon Point Lighthouse.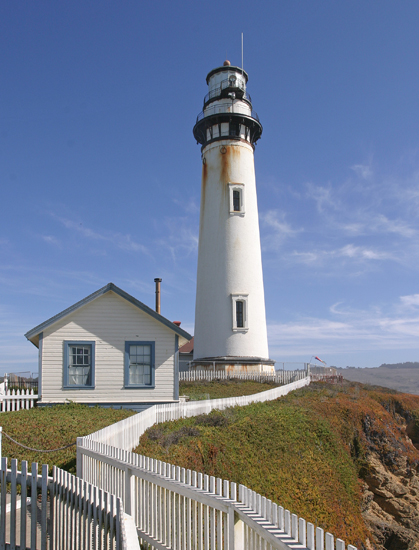 photo
We toured the grounds, went into the visitor store and purchased Girl Scout Pigeon Point Lighthouse patches, a book on dolphins and a paper book mark. All in the spirit of supporting the lighthouse. At least that's what I told myself as I was shelling out the dough.
there is another building where the original light lives. The light in the lighthouse now is the 3rd light since it's erection. heh
There was a man there to tell us all about its history. Once we were done checking out the lighthouse the girls checked out tide pools for fishy critters. They discovered many fun living creatures.
We spent time in the campgrounds riding bikes and not freezing our fannies off.
The campgrounds were nice and clean. Although the nearby horse stables did not smell nearly as nice as the ocean.
I had to work on Monday where everyone else in my family had today off for Martin Luther King Jr. Day so Todd and the girls went home around noon while I left the campgrounds before 8am.
It was a great time had by all. We were overdue for a camping adventure. This one fit the bill.