First off, Tuesday and Wednesday did not go as well for Paula in summer school as Monday. Some of the kids didn't want to include her a couple times. Once she talked, not knowing they were going to pray, so the kids near her yelled NO at her. She got teary from that.
Then on Tuesday Todd got pissed at her after swim lessons for not getting changed after repeatedly telling her while they were in the girls dressing room. He made her walk to the car naked, with just her towel around her and she had to drive home like that. She was mortified. I'm hoping school went better today.
While driving home after picking up the girls Todd called to say Shawna told him they're having a fashion show at her school tomorrow. huh? Understand that our Shawna LOVES dressing up and it's not too far a fetch to think she made this up just so she can wear a fancy dress to school. Todd asked her "Do you have any paperwork backing up this story". LOL She said no. There was no papers. Calling the school at this hour will connect me to an afternoon teacher who not always knows what the day classes are doing. She's basically after school daycare. Thankfully she did know that Miss Mary was doing a fashion show and the kids could borrow some of her outfits or bring their own. Shawna will collect a few items tonight but knows she has to wear play clothes to school.
My friend Jeannie from grammar school called today. She lives in San Diego with her husband and daughter age 8. Our birthdays are 4 days apart. I'm July 4th and she's July 8th. Our friend Terri is July 6th. Terri called me last week and then those two hung out that day. Terri lives in Huntington Beach, sort of near Jeannie. We don't talk often or visit often but we do keep in touch and care about each other. We're good about remembering each others birthday too!! LOL
The latest and greatest softball game pictures. Paula whacking the ball. She writes right handed but hits left handed.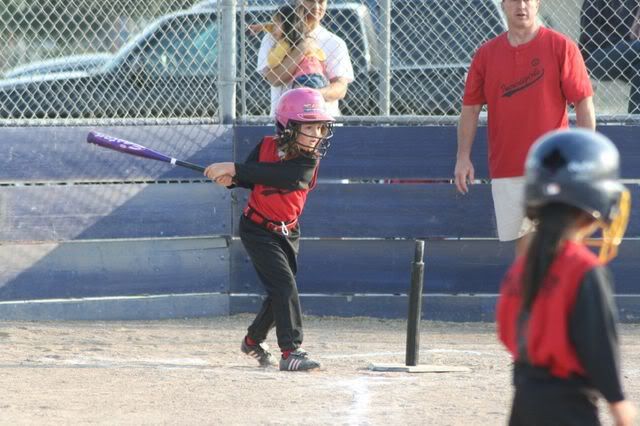 Shawna running to first base. She cracks me up at how stiff she looks. haha