Paula loves her summer school. There are 26 kids in her class, they get to wear free dress EVERYDAY and the school work was easy and fun. Not only that but they got to play in the playground which is HUGE. She's thrilled. Oh, and they get to go SWIMMING in summer school. She also learned she can have her finger nails painted which is another thing she doesn't get to do in regular school.
This weekend was busy. Friday Paula came home with my mom. We just hung out alone and relaxed. It was a very hot day. It hit 100+ outside. My cubicle at work was 79 degrees so I left at 4:30pm. I don't know what the deal was with our air conditioning but my car and house were cooler so I took off.
Saturday Todd wanted to see an air show at the
Hiller
Aviation Museum so we went to that. It was
HELLA
HOT, with no seating and no shade.
OMG
just shoot me now. Thankfully we brought an umbrella but I was definitely cranky. The museum they have was really neat. Lots of original airplanes, helicopters, engines and simulators. Plus it was inside and cool.
LOL
That night we went to our good friends 8
th
grade graduation party. They live in our old
cul
-
de
-sac so the girls got to go into our old house. Todd helped the new family in our old house fix a bathroom shower faucet that was leaking. Shawna and their older daughter Bella played really great together that day. Anna, the mom kept saying how much they love the house. I miss my yard. We had the best and hugest backyard at that house. I don't miss the small size of the house though.
Sunday Paula went to a classmates birthday party at a Bounce place. Kind of like Pump It Up. I was able to chat w/some moms I don't normally talk to which I liked. One of the moms I talked to is the parent of the boy Paula kissed in kindergarten. Paula got in a lot of trouble for that. The mom said how they really over reacted to that and her son felt bad about it. I told her how I was a terror as a child/teenager and expect lots of payback from my 2 daughters.
Last night the girls had a softball game. As is usual, Shawna steals the show with her silliness. She wouldn't wear her visor, kept spinning in the dirt, kicked dirt, made pits in the dirt. One of the coaches, Sam, was cracking me up because he's so darn nice when it comes to her. One time he was holding her visor because she refused to wear it. He said "I didn't sign up to be a hat holder." I'm like, Sam, treat her like she's your daughter. Yell at her if she's not listening, make her wear her visor. He replied "the funny thing is this is how I used to be with Sierra when she was this age. I'd just say "Okay Honey" if she didn't want to wear her hat."
At the end of an inning him and Shawna were the last ones on the field so he scooped her up and carried her to the dug out. Todd got a pic of it. I love our team. Our coaches and families are the best.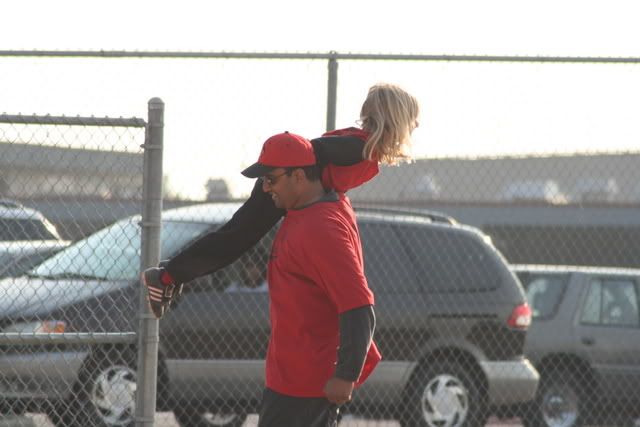 This is a plane simulator. It moved side to side and back and forth. The girls loved it. Only Paula wanted to drive it. Shawna was happy being a passenger.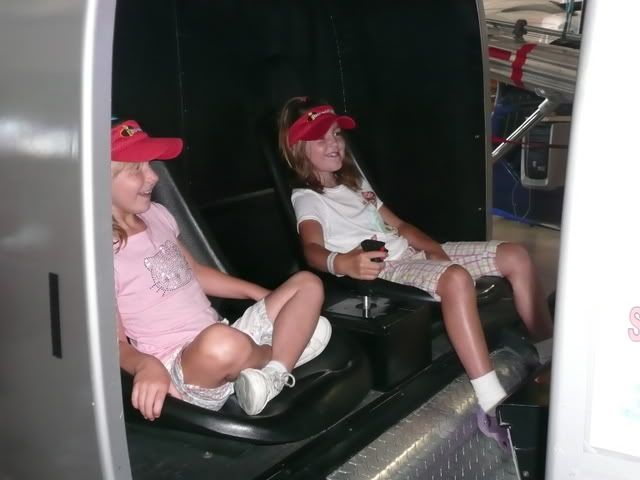 The girls sat in a Blue Angels cockpit. It didn't move but they enjoyed it just the same.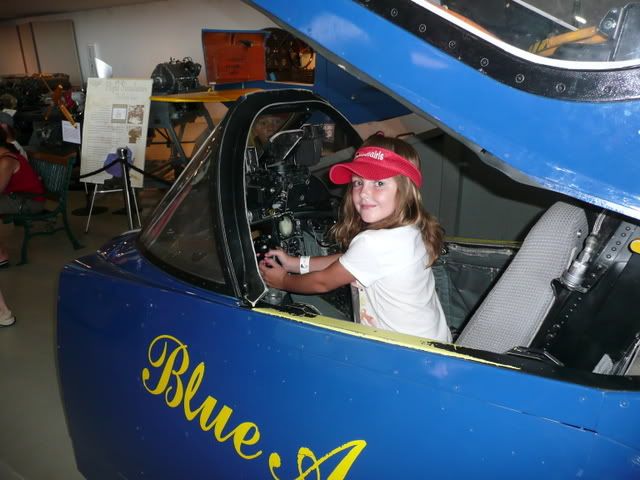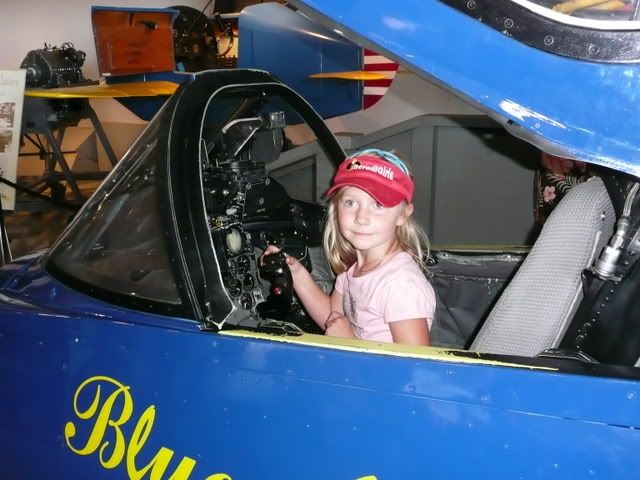 We have a lot of fires in N. Calif now. The air is awful. Smokey and just plain grey skies. On Saturday there was a lightening storm that sparked a few fires. Our friends Dina and Susie were camping at Mount Madonna. I was watching their 2 dogs and 2 cats. They called us to say they'd just been told by a ranger to evacuate with only 15 minutes notice. Yikes! Mount Madonna was on fire. Some of the fires are arson. I don't know this for sure but there are soo many that not all of them are natural. It's crazy how many are blazing right now.