Today is a celebratory day for several reasons.
#1 - It's VALENTINES DAY! A day to celebrate love, caring and Hallmark.
heh
#2 - FREE DRESS DAY! My girls were allowed to wear free dress today, which is a huge deal for uniform kids. On top they had to wear either red, white or pink. I surprised them with V-day socks and a couple other treats too.
#3 - CLASSROOM PARTIES! The girls will be all sugared up today thanks to the classroom parties and exchanging of Valentine Cards with candies attached. I sent the girls to school with Dollar Store heart covered zip bags filled with 1 Girl Scout Cookie each. They chose the cookies themselves. Paula wanted Thin Mints in hers and Shawna wanted the Lemon Cookie's in hers. Taped to the front of each baggy was a computer generated V-card with their name on it.
#4 - ROSIE'S BIRTHDAY! Today is our dog Rosie's birthday. She turned 4 years old today. That's 28 in dog years. Rosie is a Lhasa Poo and a dear member of our family. We all forgot today was her birthday until this morning. She received lots of hugs and kisses.
#5 - PAULA SLEEPS IN HER OWN ROOM! This is seriously the biggest, most important event this decade. My almost 10 year old slept in her room the entire night last night!
Back history: Paula is a worrier. She's OCD on top of that. She regularly sees the school counselor, and has since she was in 1st grade, to talk about her worries. A couple years ago my daughter started having fears about sleeping in her room. As a 3 year old she'd had worries too. As a 3 year old she was afraid of TIGERS in her room. We invented a Tiger Spray (water in a spray bottle with a fancy cartoon tiger on the front with a slash thru it indicating NO Tigers). We sprayed the room down with Tiger Spray every night to rid the room of tigers. Wet room. No tigers.
When she was 7 or 8 years old it got really bad. She complained of shadows (close your eyes) noises (houses make noise) burglar's (installed an alarm system). You name it, she worried about it. In addition to the worrying, she had a terrible sleeping pattern. She woke up at weird times or couldn't fall asleep. We resorted to Melatonin for awhile but it didn't help much. For MONTHS my husband and I battled her fears trying everything from night lights, reassuring, sitting with her rubbing her back, bribing, threatening, alarm systems, becoming angry, growing more frustrated and finally in the end - defeat. I told Todd I couldn't take another sleepless night with her coming into our room at some odd hour, listening to her crying when we forced her go back into her bedroom. She wasn't sleeping, we weren't sleeping. I finally told him just spread out a sleeping bag on the floor beside our bed and let's be done with this. She wins.
Having your child sleep in your room havoc's with your sex life. Just sayin.
For several months she slept in our room. We don't recall what happened exactly, but she did go back to her room and stayed there for a few months over a summer. Then one day, for no apparent reason that we could see, she was back in our room and it's been a year now. There have been a few occasions in the last year where she did sleep her room. Like when my mom has visited and slept in there with her (she has a trundle bed) or when her BFF stayed for a sleep over so she, my daughter Shawna and her BFF were all in her room.
I'd like to hope that just sending Shawna in there to sleep would help the problem, but unfortunately Shawna isn't tough enough to ward off the bad things. Even at my parents house where she does sleep with Shawna, she hasn't always made it thru the night without coming to sleep on our bedroom floor. On a day to day basis she sleeps in our room. She doesn't even like to be upstairs at night if one of us isn't up there with her. Like if Todd wants to stay downstairs and watch a movie with me, she's all worried being up there without us.
For her 10th birthday coming up in March, I told her we'd update her room. She'd been complaining for awhile how her room was too childish. She has princess shelves, princess lamps and Hannah Montana bedding. She said she hoped that with a more grown up room she'd be able to sleep in there. I hoped so too.
I decided rather than give her everything ON her birthday, I'd slowly surprise her with the new items for several weeks making the excitement last longer for her and me. :)
Paula is very into PEACE. She loves the word, the sign and everything it symbolizes.
Pottery Barn Teen
has a great, but expensive, PEACE bedroom line. Periodically I've checked EBay for items and found a couple affordable pieces. I won a new, but not packaged, duvet cover which I've had in hiding for a few weeks now.
Last week I went to Marshall's and found a bright blue lamp for her to replace her princess lamp. I also found a Ralph Lauren PEACE sheet set. Her walls are purple/lavender so I'm pairing it with a fun bright blue shade. The bedding I found is perfect.
Last weekend I surprised her with just the lamp. OMG you'd have thought she won the lottery. Not that she's even allowed to play the lottery.
Yesterday while she was in the shower I put on her new bedding. I'd already pre-washed them that day, I just needed to do the make-over while she wasn't around. When she came out of the shower she witnessed this new bedding. (I took these pictures this morning) See the lamp? Also, I had to strategically place her stuffed animals and purple blanket JUST SO because of her OCD. Or I'd get yelled at.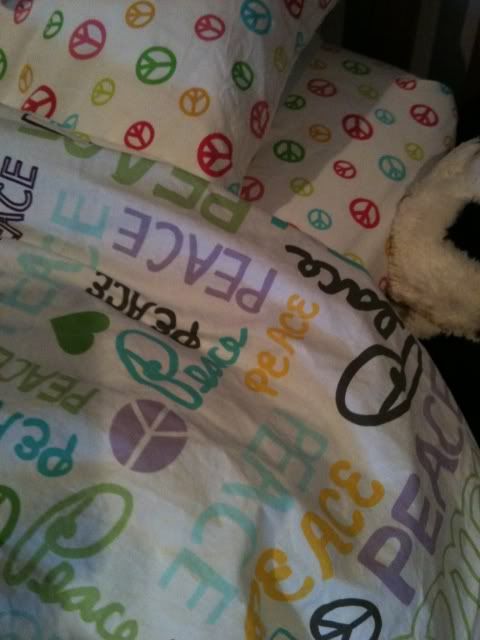 SQUEAL'S of joy. THANK YOU MOMMY, THANK YOU MOMMY! I LOVE IT ALL! Also, she really wanted to try to sleep in her own room tonight. Yay!
I told her if she slept in there all week she'd be rewarded with something. (not sure yet what that something IS).
Each night she and Todd read a book together. Right now they're reading the first Harry Pottery book. Normally she reads to him while she's laying in her sleeping bag on our floor. Last night Todd sat by her bed while she read. Lights went out at around 9pm.
Paula did come downstairs at 9:45pm saying the house was making noises and she was hot and sweating. She also wanted some warm milk to help her sleep. I immediately got worried this wouldn't work. I suggested she open her window to cool the room off, since in my bedroom we have the window open and the fan on. We like it freezing in our room. I also reminded her that her clock radio had bird, ocean and other noises to choose from. She drank her milk and up she went. I crossed my fingers.
I checked in on her at 10:45pm and she was sound asleep with her window open, fish light on, bird sounds on.
JOY!
This morning when my alarm went off at 7am I looked and saw She stayed in her room ALL NIGHT!!!! I want to scream this from the rooftops. Seriously.
I quickly went into her room to close her window. I knew the heater kicked in so she'd want her room warmed up. Turns out she'd closed the window herself in the night. Later she told me she discovered the wind blowing into the room was making the door rattle.
She was SO EXCITED and proud of herself. "Mommy, can you bring me the phone?" I knew she wanted to call her dad who was already at work. While laying in bed she called her father. "Daddy, I slept in here ALL NIGHT. It's because I'm surrounded by PEACE. Literally." Heart her
Today she has her weekly meeting with the school counselor. She told me how she's SO excited to tell how she slept in her room.
She also said she'll never forget the date she slept in her room. Valentines Day.
Love