DeMartini Family Fish Fry 2008
Uncle Peter, Uncle David, Joan (my mom), Aunt Julie, Aunt Charlotte, Aunt Terry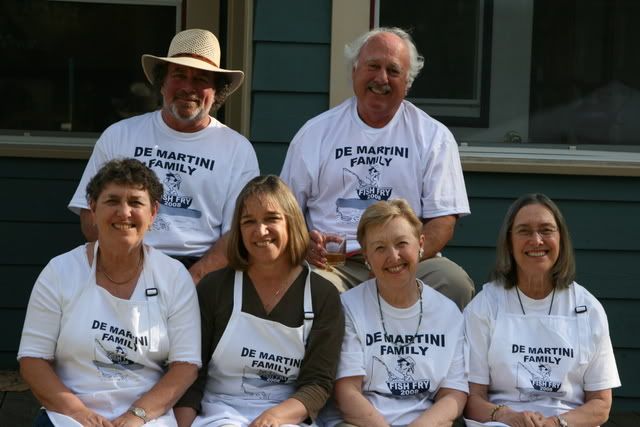 Cousins Only
(1st, 2nd and 3rd cousins - I'm 2nd from the top on the left, my brother Alan is on the top far left)
For over 25 years now my moms side of the family (The DeMartini's) have been doing an annual reunion we've appropriately named the DeMartini Family Fish Fry. We have shirts, aprons and hats made (sometimes hats, not always).
This year it was held in Willits, CA at my cousin Steve's. He wasn't even there this year. It's True. He was rafting down the Grand Canyon. But he trusts us (silly boy) and so over 50 of us (small compared to some years) met and drank wine (lots and lots of wine), beer and more wine. Also, as tradition we have crab, focaccia bread (Italian bread) and filet of fish with peas, mashed potatoes, and a huge salad. It never varies.
My grandparents Romeo DeMartini (obviously Italian) and Frances Tilton (Irish) married and had 6 children all raised in the catholic faith. My grandma was about to say her vows to be a nun when my Grandpa decided he had to have her as his wife. Apparently he was very persuasive. They lived on San Francisco until he retired. They had a house built in Columbia CA (historic gold mining town). They are both buried there now. Grandpa lived to be 92, Grandma only 78 (cancer).
The list of children from my mother, aunts and uncles are :15 first cousins, (I'm number 11 in the line) 17 second cousins, and 8 third cousins. There were 3 babies this weekend. Twins boy/girl - 3 mos and a 6 week old girl. So darn cute.
Once you've been to a Fish Fry you're always welcome back. We have ex-girlfriends and ex-wives who come back with their new hubbies.
I have a great family and I love that my kids get to experience this fun event.